FROM HARLEM DANCERS TO GHANA SLAVE CASTLE
Inside Camden's Second Annual African American Experience Art Show
CAMDEN -- A bit of Harlem's golden entertainment era came to Camden yesterday as Lady Bird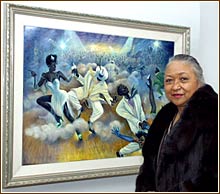 Photo: Hoag Levins
Lady Bird Strickland with her painting, 'Stompin' at the Savoy,' at the CCHS show. Larger photo.

Related Strickland Background
Villanova Gallery Show
Philadelphia CityPaper Article
Strickland appeared as the star attraction at the Camden County Historical Society's afternoon art show reception.

Swathed in fur and bubbling with stories of the 1940s Harlem music scene, the artist, whose 50-year retrospective filled Villanova University's Art Gallery last year, added a touch of glamour to the Historical Society's second annual African American Experience art show.

Her painting "Stompin' at the Savoy" was the visual highlight of the afternoon reception in Pomona Hall Gallery, where 18 artists hung five dozen works for Black History Month. The exhibit remains open to the public through February 28.

A resident of Willingboro, N.J., Ms. Strickland is best known for a long line of works documenting African American culture beginning in the 1940s when America was still a strictly segregated society offering little opportunity or encouragement to black artists.

"When I was a little girl in Georgia," she said, "they'd whup any child who got caught drawing in school. I'd wait until everyone went to lunch and then I'd draw when no one was looking."

Harlem Dancers
As a teenager, Ms. Strickland moved to New York City and majored in art and costume design in high school.
Photo: Hoag Levins

'Urban Trilogy' by guest curator Joe L. Speight. Larger photo.


She ultimately won a scholarship to Pratt Institute. Meanwhile, she haunted -- and then began painting scenes from -- places like the Savoy Ballroom in the heart of Harlem. Her pictures, with titles like "Zoot Suiters," "Jazz Masters" and "Paintin' the Town," capture the vibrant color, wild movement and exuberant spirit of Harlem when it was the country's capital of black music, dance and fashion.

The Savoy gave rise to dance crazes like the Lindy Hop that later evolved into the jitter bug, boogie woogie and rock & roll. Accommodating nightly crowds of 5,000, it had two bandstands so that the music never stopped. Musicians like Ella Fitzgerald, Duke Ellington, Count Basie and Dizzy Gillespie were fixtures there. The night club's fortunes peaked in the years of World War II and declined in the 1950s. It was closed and the building demolished in 1959.

'Stomping Grounds'
"First time I tried to get into the Savoy, they turned me down because I was too young,"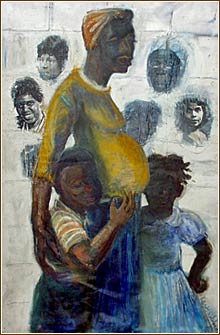 Photo: Hoag Levins

Kevyn T. Johnson's oil and collage 'I'm Still Standing.' Larger photo.


Ms. Strickland remembered. "But later I did get in and it became my stomping grounds. That was in the early 40s. I loved the dancing and the music. I also liked winning costume ball prizes, because I needed the money -- I won seven at the Savoy."

"Sometimes I used to sit across the street and just watch and sketch. You had to see it all to believe it actually existed and that's what this painting shows -- what it was like back then," she said.

"Amazing," said Camden County Historical Society president Richard Pillatt as he stood nearly immobilized in the should-to-shoulder throng near the central refreshments table where Ms. Strickland was holding court.

"When you begin to attract artists of the caliber of Lady Bird Strickland, you know you're doing something right," said Pillatt. "The quality of the work we're displaying this year is truly outstanding. The size and enthusiasm of the crowd is incredible and says a lot about the staff members and volunteers who have worked so hard to bring this thing off for the second year."

Artist and guest curator
Holding court at the other end of the room was this year's guest curator Joe L. Speight, a Marlton, N.J., artist who exhibited in last year's show and then agreed to help organize the current one.

Speight also had two works on display and gave the presentation on "Art, Archaeology and the Black Experience" that ended the day's events.

Another of the more interesting works in the show was an oil and collage by Philadelphia artist Kevyn T. Johnson entitled "I'm Still Standing."

Performance art
The striking image of a pregnant black woman hugged by two children and surrounded by the faces of other women was created in less than twenty minutes during a performance Johnson gave at a local mall last year. Appearing at a woman's group fundraiser, he danced to music, painted, and pasted photocopies of pencil sketches onto a five-foot-high canvas to create the piece.

"I didn't actually know what was going to emerge from it all," said the 36-year-old self-taught artist. "At first it was very abstract but then the woman started to appear in the center and everything worked itself out around that."

Street photographer
Jackey Melton, a 23-year-old photo-journalism major at Rutgers University in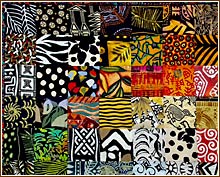 Photo: Hoag Levins

Portion of a quilt by Denise Fox incorporating fabrics from Africa as well as aboriginal tribes of Australia. Larger photo.


Camden, was one of several photographers in the show. Her most eye-catching work was "Jazz Man," a large color photo print of a saxophone player on the sidewalk.

"I was carrying my camera around Philadelphia one day and saw this man playing on Chestnut Street near Liberty Place," she said. "I asked him if I could take his photo and when I shot it, I had the feeling this was a really good image. I later went back to talk to the man but he was gone. It was just one of those instants that you capture on film and then it all disappears."

Fabric artist
Denise Fox, who is both the conservator of the Historical Society and a fabric artist, exhibited a quilt constructed of materials obtained from Africa and Aboriginal tribes of Australia.

"I've been seriously collecting fabrics for about five years and I know it's an odd hobby," she said. "You find unusual fabrics in fabric stores, second hand shops, quilt shows, and old clothing. I buy fabrics when I travel to other parts of the country and I have fabrics sent to me from overseas. There are an amazing number of shops and online specialty vendors that trade in fabrics from around the world.

Slave Castle
Seventy-four-year-old painter Curt Brooks had five works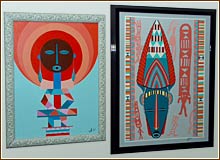 Photo: Hoag Levins
Curt Brooks' oils, 'Girl' and 'Mask Elements'. Larger photo.

See the Slave Castle
Unesco World Heritage Site
A Flickr Album
in the show, all with strong African tribal motifs grounded in his on-site research in Africa.

"I began painting twenty years ago about the same time my family began researching our lineage back to Africa," said the Pennsauken resident. "I traveled to Ghana in West Africa to see where we came from. I stood in Elmina Castle where the slave ships were loaded. It was a very powerful experience and I've been painting these themes ever since."

Elmina Slave Castle, an imposing 16th-century fortress that is the oldest European structure on the coast of West Africa, was a hub of the slave trade. A garrison and holding dungeon, it was used as a human cattle pen from which European ship captains purchased and chained their cargoes.

"For years I've wanted to have some of my paintings in a Black History Month exhibit somewhere, but I kept putting it off," said Brooks. "I don't know what it was about this year but I saw the announcement for this show in the paper and I just knew I had to do this. So, here I am and I'm really enjoying it. What great company to be hung with."
---
All Rights Reserved © 2002, Hoag Levins